Steelfixture.com > Products > Museum Cases > Specimen Tanks
We offer three standard size stainless steel tanks for the storage of specimens. The type 316 L stainless steel has superior corrosion resistance and will withstand all common preservatives without deterioration or discoloration. All seams are hand welded. Caster bases are sold separately.
3D models require Adobe Reader version 7 or above.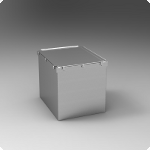 Our CST tank is frequently referred to as a "turtle-tank" measures 23" wide x 29" long x 24" high. They have a removable center-span reinforcing bar. Holds approximately 70 gallons. Lid is held in place by twelve mechanical fasteners.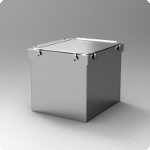 The FST tank is our smallest standard tank. 15" wide x 18" long x 15" high. Commonly used for smaller specimens and classroom work. The smaller size and light weight make this tank ideal for field work. Holds approximately 18 gallons. Lid held in place by eight mechanical fasteners.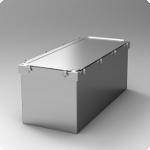 Similar to the FST, but twice as long. 15" wide x 36" long x 15" high, holds approximately 35 gallons. Frequently referred to as a "shark-tank", it is suited to larger and longer specimens. It has a removable center-span reinforcing bar. The lid is held in place by twelve mechanical fasteners.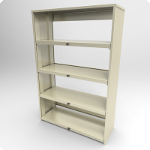 52" wide x 21" deep x 81" high, The SER-4 is a heavy duty open shelving unit designed for storage and accessibility of our specimen tanks. Each shelf is mounted on a heavy duty full channel steel roller bearing suspension. 1 SST Tank or 3 FST Tanks will fit on one shelf.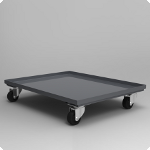 Our caster bases are available for all models. The base is made out of 14 gauge steel, with reinforcing channels on the bottom for added strength as well as a place for the casters to attach. The casters are made out of a quiet, non-rusting neoprene, designed for smooth rolling on almost any surface.

View 3D Model