Steelfixture.com > Products > Museum Cabinets > Geological Storage
The most versatile and general storage unit series we offer. From the smaller Model GL to the larger Model GLX, this series offers storage for of all sizes and types of artifacts.
These particular cases are constructed from heavy duty, cold-rolled, low carbon steel, case construction combined with lapped and fusion welded door frame provides superior strength and greater rigidity for your case. The door seal is a continuous black silicone air-filled gasket mechanically held in place without the use of adhesives. This assures a positive seal against dust, light, and loss of fumigant. The doors also feature flush mounted, chrome D-ring handles. These are safer than protruding handles and will help conserve space for any high-density compact storage area. The door handles operate the beveled steel channel that engage latch plates at the top and bottom for an excellent airtight seal. The GLX model also engages in the center, making it a three point locking system. Each door has a spot for your identification card for quick identification of your specimens. The GLX also features a fumigant status indicator.
3D models require Adobe Reader version 7 or above.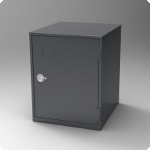 29" wide x 32" deep x 36-7/8" high, the GL is an excellent small case for artifacts, garments, textiles and geological samples. Holds up to 16 - 1-3/4" high metal drawers.

Specifications

Dimensions

3D Model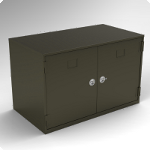 58" wide x 32" deep x 36-7/8" high. Store geological samples or larger garments and textiles with minimal folding. It can hold 16 standard or heavy duty metal drawers and a center divider can be added for half width drawers, or combination of.

Specifications

Dimensions

3D Model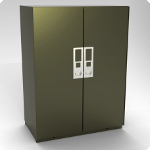 58" wide x 32-3/8" deep x 78-1/8" high. Our most versatile storage case for garments, textiles or geological samples. Full and half width shelves or drawers are available with hanger rod.

Specifications

Dimensions

3D Model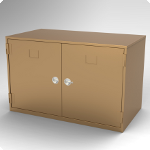 58" wide x 32" deep x 36-7/8" high, much like the GLC in size and shape, however it is like the GLX on the inside and can be set up the same way, using GLX accessories only with the smaller height.

Specifications

Dimensions

3D Model