Steelfixture.com > Products > Document Storage > Roller Shelving > HiLine 1/2 Sized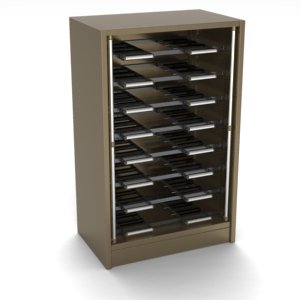 Sage












Roller shelving is the traditional, proven method of storing large, heavy record books. It provides convenient, economical storage in a space-saving arrangement. Each standard HiLine 1/2 Sized allows from eight (8) books at these openings. Annex "add-on" units can be attached beginning at the right side of the starter unit. Available in either high base, or low base profiles.
37" High with High Base, 34-3/16" for the low base. Starter units are 21-5/16" wide, Annex units 20" wide, S-113 models are 14-1/2" deep, S-117 18-1/2" deep. Finished Ends add 7/8" at each end of combined units.

Other models in this range are Quarter Sized and the full sized HiLine units.
Overall Dimensions
Height: High base: 37" Low base: 34-3/16"
Width: Starter: 21-5/16"
Width: Annex: 20"
S-113
Depth: 14-1/2"
S-117
Depth: 18-1/2"
Two Finished Ends add 1-3/4" to overall width.
Our stock roller shelf book size openings are as follows:
S-113: (Between shelves) height - 3-1/4", width – 19-1/8", depth – 13-3/8"
S-117: (Between shelves) height - 3-1/4", width – 19-1/8", depth – 17-3/8"
The roller shelves are adjustable in 1/2" increments allowing custom fitting of various size books.
Custom sizes are available upon request.
Click images for larger version.