Steelfixture.com > Products > Document Storage > Four Post Shelving Accessories > Easy Rollers
Easy Rollers are designed to fit other manufacturers' 4 post L & T shelving units. They are very easy to install. You order the uprights and shelf supports brackets (without shelves), assemble and then just slip our easy rollers inside at the desired locations. Two Easy Rollers per book are recommended.
This system is designed to work in all brands of 4-post shelving for the storage artifact and record books. The Easy Roller unit is 18 gauge powder paint coated with hardened plastic rollers. The unit fits into the standard shelf supports of the shelving unit. The Easy Rollers are made in the various lengths to fit most shelving. The individual rollers are slightly lower from front to back, which helps keep the books in place on mobile systems. The number of vertical levels is determined by the thickness of the book and height of the shelving unit.
Single Face Easy Rollers – Books can be inserted from one side only for units are placed along a wall.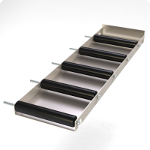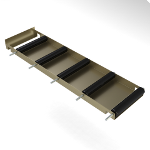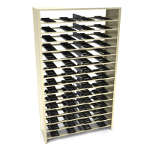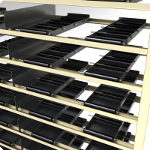 Double Face or Back to Back Easy Rollers – Books can be inserted form both sides of the shelving unit. These units have an adjustable center book stop and are used with an aisle for larger storage projects. Many times these units are used on mobile compactor storage systems.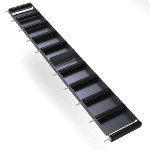 The Easy Roller System gives 4-post shelving dealers flexibility when working on record book store projects. They can be incorporated with a larger shelving project to solve the book store issue.
Easy Roller – a simple solution to horizontal book storage.